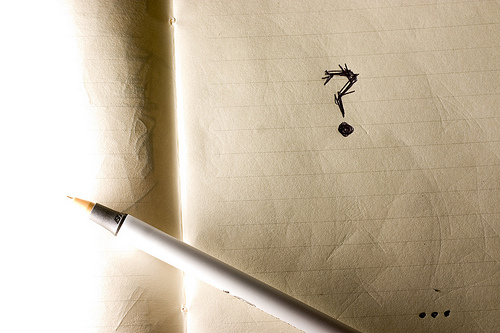 Maybe it's the changing of the season (yay summer!), maybe the changing of my location (I just moved), or maybe just the ebb and flow of recovery, but things just haven't been quite in rhythm for me food-and-body-wise. In the past year, I feel like I've been sort of cruising along, hitting the normal (and mostly manageable) bumps and hiccups along the way, however, in the last month I've felt frustratingly "off."
Nothing overwhelmingly raises its red flag at me for what's been going on other than a diffuse "transition phase," but I've been out of balance and I feel it.  Truthfully, you can only go so long until the little things add up and they begin to have an effect/consequence and I've noticed them. I feel it in my body, my eating behaviors, my energy and mood. They are all kind of subtle, but I find myself thinking a little bit more in the black-and-white zone, obsessing just a tiny bit more about food and the negative self-talk that I worked really hard to quiet down has been whispering when I am not paying attention.
Fortunately, I can no longer just check-out and ignore this kind of stuff until I am deep into a tail-spin and unhappy and feeling hopeless, and for this I am thankful. However, I've been having some trouble, "figuring out" what's really going on. I've been working on getting sane about my relationship to food and my body long enough to recognize that almost none of this is about the actual food itself, or my physical body, but sometimes the "figuring out" part is what stumps me. I am certainly open and willing to take a deeper look and explore what might be triggering this stuff for me, but I've been attempting this for the past three weeks. Journaling, meditating, talking to people I trust, thinking about past experiences, blah-blah-blah (these are all good things-they just aren't working as efficiently for me as they have in the past).
After a long brainstormed list of possibilities of what could be bothering me and making my least favorite things flare up, I realized I'm not really getting anywhere with this "figuring it out" stuff and I still feel bad. I am still overeating on a regular basis, under-exercising, thinking in unhelpful ways and slipping into negative self-talk. This has just got to stop. After talking with my mom, she pointed out that sometimes putting all this effort into "figuring it out," can in the short-term just make you feel stuck. Sometimes you just gotta push yourself and stick to what you know will make you feel better, and do that.
Sometimes doing this first can then open up the space later to then look deeper and find what was truly going on. For once in all of this, I think I might just have to get out of my head for a second and do what I know will help. Sometimes trying to answer all of the "whys" (why am I eating this third brownie? I can barely taste it now!) is just frustrating and may not have answers anyway. What are things in this immediate future that I can do to make myself feel better?
Things we have talked about multiple times on healthygirl are actually most of the things that make me feel better. Planning my meals, moving my body, drinking water, taking time to do things that keep me calm and feeling relaxed and organized, etc. I realize also that I have to be patient with myself and that once out of balance, I'm not going to overnight feel amazing the next day (but it actually doesn't take very long once I commit to doing what I know is best for me). I also have to be gentle with myself, considering all of the changes that are going on, and hopefully when it's helpful, I will figure it all out…Or maybe I won't, but I'll feel a lot better in the meantime. =)
What do you do in the moment that helps to make you feel better about food/body stuff in the moment? -Morgan
For a new food-sanity or body-sanity tip every single day, follow @hlthygrl on Twitter!
[photo]