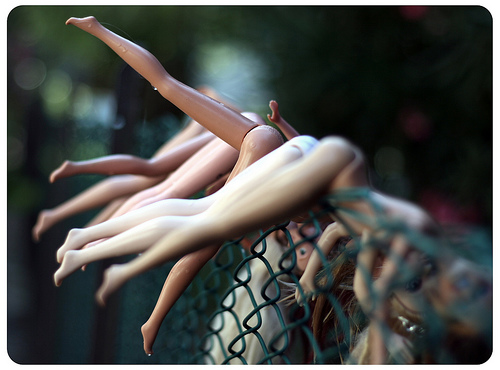 I have been more body-conscious than usual lately. Not hateful, not loathing, not obsessive, but…conscious. You regular readers know why. As much as it hasn't become pathological, part of me is a little frustrated—I'm recovered, God*(#*)t! I've DEALT with all of this. As in past tense. Done, over, g'bye.
But the other part of me, the grown up, more reasoned, and yes, more recovered part, knows that you're never really done with this stuff. Just like our lives, our bodies change all of the time, and the way we feel about them does too. My God, when you're pregnant, your body changes absolutely daily! In ways you really have no control over. (What a ride that's gonna be!)
So, I wanted to have a little discussion about body talk today to sort of clear the air in my own mind—and perhaps help some of you do the same. My days of true body hate are over, but there are two mean words that have come into my head lately that I need to cleanse from my brain: squishy and lumpy. (Sounds like a couple of dwarves, huh? I'm Squishy, who are you? Lumpy!) The words bubbled up, I recognized them as unhelpful at the time and I let them go without obsessing, but this morning I woke up thinking it was time to address them directly for an even deeper exorcism.
The truth is, I'm not squishy and lumpy—but I am soft and my edges are most defintely rounded. Do I have more dimples on my hips and butt than I used to? Yes. Is that normal as you get older? Yes. And, the most important question: Is the way my butt looks truly that important to me? No, actually, it's not.
See, my values have changed a lot along with recovery. My weight and my appearance are no longer the definition of what makes me valuable—sometimes I just have to remind myself of that! Old habits die hard.
Now it's your turn—has some residual mean girl in your mind said something negative about your body lately that you'd like to get rid of? Share it, and let it go! xo…Sunny