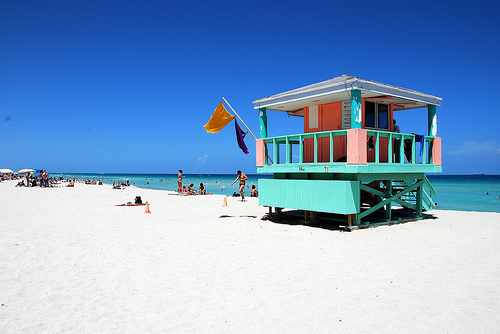 Hey HealthyGirl readers!  My name is Erica, and Sunny has been kind enough to let me guest blog here every so often. I'm 22 years old, but I consider myself to be pretty deep in the recovery stage from binge eating disorder.  (Check out my history—I wrote a "Real Story" for the site several months ago.) It's been one heck of a rocky road getting to the basically healthy point that I'm at, and it's still a work in progress.
Before I continue with this post, I have to say that I'm so excited to share my past and present food and body image experiences with you all, to ask your opinions on questions that still come up for me on these topics, and to hear about all of your experiences. I was just telling Sunny the other day how awesome it is to see that binge eating disorder—the most common yet least mentioned eating disorder—is finally getting some attention.  There's finally a place for people who are struggling (with any E.D.) to share, get inspired, and most of all, not feel so alone.  Sunny has truly started a revolution here! But equally important to this site is the community vibe that YOU ALL, the readers, create with all of your uplifting, honest, and encouraging stories and comments. Okay, onto the main part of the post:
This past Friday I did the unthinkable, the unimaginable, the inconceivable (at least for me):  I braved the beach in a bikini without feeling like my body was "perfect" yet.
I must also mention that this was the first time that I've been to the beach (or any type of place that implies wearing a bathing suit like a pool, water park, etc.) in FOUR years. FOUR. Maybe that wouldn't be as awful if I didn't love doing bathing-suit related things, but to me they're the best part of summer!
Before Friday, the last time I wore a bathing suit was when my family and I went to Long Beach Island in New Jersey in August of 2006.  That fall I began my freshman year of college, which kicked off the worst of my bingeing; the last four years have been a rollercoaster of up 5-15 pounds, down 5-15 pounds—not horrible, but it's been enough to mess with my head and make me feel that somehow I haven't been quite "ready" to hit the beach.
Right now I feel good about my body, but not fantastic, as a few months of extreme highs and lows in my life have shaken up my healthy habits. But perhaps out of sheer longing to feel the soft sand beneath my feet and the salty sea breeze swirl around my hair, when my friend Nikki called early in the week and asked if I'd like to go with her to the beach on Friday, I agreed.
In typical Erica fashion, I waited until the last minute (read: Thursday afternoon) to hit Macy's in NYC to find a bathing suit that was actually flattering even under that hideous fluorescent lighting they have in the fitting rooms.  I'm pear-shaped, meaning I have a booty, hips, and thighs. So while most of the bikini tops fit me great, the majority of the bottoms wouldn't cover ONE butt cheek let alone two. (Who makes these things, Polly Pocket?)  But I promised myself I would not get frustrated.  Finally, I found a black bikini by Guess that fit close to perfectly. And it was on sale.  Hallelujah.  Now get me the heck out of here, I thought.
Lying in bed Thursday night, I felt a huge urge to call Nikki and cancel.  The very presence of the new bikini still sitting in the Macy's bag on my bedroom floor made me queasy. I thought, sure, it looked cute on me, but not cute enough. "What the heck does that mean," the other, more loving side of my head challenged back, "that I don't have six pack abs?  Um okay, no, but who cares?"  That apparently was enough to shut up the other, more critical side of my brain and I fell asleep with the plans still on.
When we got to the beach the next morning, I was so happy I went. Nikki and I lied back on our towels and talked, sipped frozen drinks, cooled off in the water, chatted up a couple of cute lifeguards (haha), and just had a beautiful day.  I also noticed women twice my size wearing string bikinis (one even wearing a thong!) and I mentally had to give them props. Whether they felt self-conscious or not, they were out there strutting their stuff and not letting any body image hang-ups or society's body standards stop them from living and enjoying life! And you know what?  They looked wonderful, especially because they looked happy.  Let's just say it was a very inspirational day for me; I only wish I had gone out of my way to compliment them on their fabulous bathing suits!
I'm realizing more and more that people, particularly when wearing next to nothing, are more worried about how they look than how I look. Yes, they might look at me, and perhaps even judge me, but it's most likely to make comparisons to themselves.  And even if they did have a problem with my body, (excuse my language but) screw them!  My body lets me walk, run, see, dance, listen, hug, and so much more.  Not to mention, I look pretty darn good if I do say so myself!  Overall, I'm learning to love it.  And if someone else doesn't, they don't have to look at it.  Simple as that!
Many women (eating disorder or not) dread bathing suit season.  How do you all feel about it?  Have you let it stifle you or do you get out there and have fun even during times when you're not feeling your healthiest? —Erica