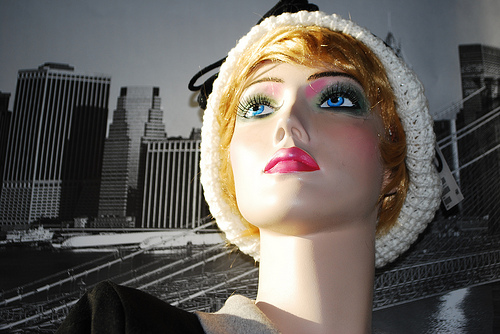 Beliefs about weight and our bodies come from all kinds of sources, including family, friends, art, fashion, movies, books, and yes, magazines. That's why it's so important for all of us to be literate media consumers—to know the realities of what goes into producing the media we all love to eat up every day. Here's a little something I call Media Images 101 (I wrote this as a guest post for Delta Delta Delta's Fat Talk Free Week and wanted to share it with all of you):
I was walking by a newsstand the other day when a pictures of a pretty, pointy-nosed blond woman on the cover of Harper's Bazaar caught my eye. "Who isthat?" I thought. After staring for a few seconds I realized it was Drew Barrymore. Actually, I wasn't really that surprised at how different she looked. Why? I've worked in magazines for almost 10 years, and I understand that the images you see on the cover aren't really photographs.
They're more like paintings. They're true pieces of artwork that have been painstakingly created not just by the hair, makeup, and lighting folks at the photoshoots, but also by art directors and retouchers who go over every centimeter with Photoshop. They take out any weird little clothing wrinkles, soften facial lines, and remove skin spots that somehow still managed to get through all that makeup and flattering lighting. Sometimes they even do things like add more hair, whiten teeth, and darken makeup.
These images created for covers and for ads are pieces of art, not reality. And it's important for girls and women to remember that. You can't compare yourselves to those pictures; a lot of times, even the people in the pictures don't look like the pictures! Just ask Whitney Thompson, the first plus size winner of America's Next Top Model, who I interviewed last week when she was in town for the National Eating Disorders Association conference: "I think [airbrushing] even sets up unrealistic expectations for yourself," she told me. "When I see myself on a billboard in Times Square and I'm looking at my face, your ego gets really big. [But] you're walking down the street and I don't look like that. I have sun spots, I'm getting wrinkles, I'm 23 and I'm from Florida, so I age and you don't see that in pictures."
Whether that's right or wrong, I'll leave to other people to debate. For me, I just know that's the way things are, and it's important for all of us to know it. Here's a good rule of thumb to keep in mind when it comes to pictures of models or famous people in ads, magazines, and other mass media: Unless a photo is a part of a news story or other photojournalism piece, a "gotcha" kind of paparazzi shot, or you're told explicitly in the caption or text of an accompanying story that the image has not been altered, some type of retouching has taken place. Sometimes it's as simple as smoothing out the wrinkles in a model's shirt or changing her nail polish color, other times it's erasing veins or dimples from her legs or dark circles under her eyes.
The bottom line? Media images are not reality—so the next time you find yourself tempted to compare your real, flesh and blood, breathing, living, working, body to a two-dimensional image of a model or celebrity in print, online, or on screen, stop and remember this mantra: When it comes to looking perfect, life doesn't have to imitate art, in fact, it can't!
Now, a question for you: Do you ever compare yourself to images of models or stars you see in magazines or in movies? Did you used to? How can you remind yourself that these images we see aren't reality? xo…Sunny