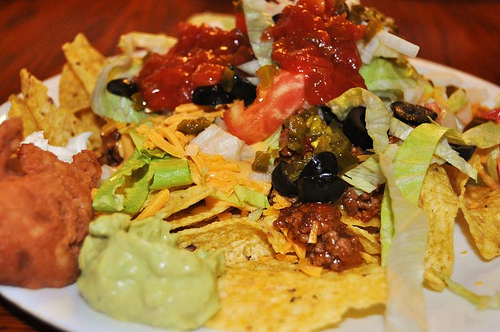 Thanks to Erica, 21, who's sharing her very honest, inspiring Real Story today. She's proof that you can get better! xo…Sunny
I cringe when thinking back to the summer of 2007, right after my freshman year of college.Many nights I'd lie awake in bed watching Nick @ Nite until four in the morning while my parents were fast asleep.  On the surface, I was relaxed and calm.  But suddenly, I would feel a mental tug and hear an inner voice telling me I wanted something.  I needed something.  Like an insect drawn to bright light, I'd carefully turn my doorknob, tiptoe past my parents' bedroom, and slowly creep down the seven stairs (stepping in the crevices where the creaks aren't as loud) and into the kitchen.
I'd start by eating a cinnamon raisin bagel—one side cream cheese, the other side peanut butter.  This would leave me full, but not fulfilled.  Next, I'd scour the cabinets for something chocolatey.  Ah-hah—M&Ms!  I'd eat at least 50.  But then I'd need something salty, so I would melt shredded cheddar onto a checkerboard-sized platter of tortilla chips.  Crap, I remember thinking. Now I've really blown it.  So much for toning up this summer. So I'd proceed to preheat the oven and pop in a family-sized frozen pizza, and while waiting for it to cook have some more M&Ms standing in front of the kitchen television.  I recall one time, in the midst of my trance-like binge, a Victoria's Secret commercial came on featuring supermodel Adriana Lima and I scoffed out loud, "You bitch."
I began overeating during my junior year of high school, but since I've always exercised regularly and have stayed fairly slim, I was able to keep my secret life safely hidden from everyone other than my parents, best friends, and uh, golden retriever. The height of my bingeing was during my freshman year of college and the summer thereafter.  I was adjusting to college life, beginning my first real relationship, butting heads with my roommate, coping with my Mom having lung cancer (which, thankfully, she is now fully recovered from), and grieving when my boyfriend left me without a trace and with absolutely no closure whatsoever; these things definitely took their toll on me.  By mid-summer I knew I had more than just an average case of occasional overeating; I Googled "eating disorders" online until I found a description of binge eating disorder—I knew instantly that this is what I was suffering from.
I immediately told my parents, who were nothing but loving and supportive, and a couple of weeks later I began therapy.  The most helpful thing that my therapist taught me was how to be mindful.  I learned how to really tune in to what was going on in my head before, during, and after a binge. This in turn led me to thinking about how I could actually tackle the issues that were stressing me out head-on instead of turning to food to cheer me up (because it rarely did for more than five minutes).  Along with therapy, I read books on BED and self-help books in general to keep me inspired.  (Two of my favorites are Overcoming Binge Eating by Chris Fairburn and Secrets about Life Every Woman Should Know by Barbara DeAngelis.)
By the beginning of my junior year in college, I began to notice that my binges were becoming smaller and smaller—my stomach could no longer tolerate all that food being shoved into my system.  They were also much less frequent, going from three to four times a week to three to four times a month.  Now, my binges (microscopic in comparison to what they were) occur about once or twice a month.
I believe I'm at the point in my recovery where I can focus not only on not bingeing, but also on eating as healthily as possible.  (I'm working on getting those 8-10 servings of fruits and veggies in each day!)  But the most important thing for me is to stay away from that all-or-nothing, black and white thinking; if I have a big slice of cake, that doesn't mean I'm "bad" and that I should say "screw it" and eat everything else in sight. Whether I have a small indulgence or an outright binge, my main goal is to stop feeling sad and guilty about it and to get right back on track.  And with the new year here, I'm ready to check this off my mental list of healthy accomplishments. —Erica, 21