We've all been there: A friend, sister, coworker, or, heck, even our mom starts talking about their "fat thighs" or their new diet, or how "bad" they've been this week. Being around that can be hard for those dealing with disordered eating and emotional eating. That's the situation HealthyGirl.org reader Heather has found herself in. But I'm excited to say I got some amazing advice for her (and all of you!) from three of my favorite experts…
Q. I work in an office with a girl who has her own food issues, and find it difficult not to get into food-related conversations with her. I end up saying things or getting more involved than I ought to for my own health, and then feel guilty and regretful for putting myself into the situation. Similarly, I've been in conversations with friends about weight, food, image and eating that aren't good for me and haven't known how to get out of them. Do you have any advice for those of us who might have decided themselves that they aren't going to diet to take care of ourselves, but still struggle in conversations and situations with others who do? —Heather
Answer(s!):
1. First, from the amazing Johanna Kandel, founder of the Alliance for Eating Disorders Awareness, who is recovered from eating disorders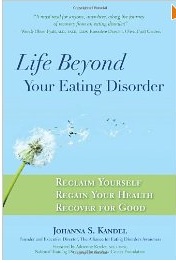 herself, and has a new book: Life Beyond Your Eating Disorder. She speaks all over the country and says this is a question she gets all the time:
•        Walk away from the situation—but don't make it obvious.  Say that you forgot to do something.. "OMG, I totally forget to return my friend's call.  I'll be right back."
•       Literally change the subject— "Oh I think I forgot to tell you…"
•       Don't talk about it – "We always talk about food and weight, and there is so much going on.  Have you heard about Tom's shoes?"
•       If you have a friend or colleague that is safe and supportive, make them an ally.  They can help change the subject as well.  You can even have a 'safe' word.
2. Now, some wisdom from my friend Leslie Goldman, blogger for iVillage's Never Say Diet:
"This reminds me of the Sex and the City episode where the Carrie, Charlotte and Miranda are lamenting their various body parts (Carrie hates her nose; Charlotte loathes her thighs; Miranda has chin issues.) They look at Samantha expectantly to see what body part she'd gladly trade, but she just says raises her eyebrows and asks, 'What? I happen to love the way I look.' That would never happen in real life! Even if you were having a great body image day and were feeling strong and beautiful, it takes superhuman strength to speak out when all of your friends or coworkers are body bashing. It's almost as if trashtalking about ourselves makes us feel like part of the group. It's sick and wrong and I wish it would stop. But until it does, I think your smartest move is to extricate yourself from the conversation. Why surround yourself with negative energy? Even if you need to make up an excuse, like using the washroom, wander away and don't return. It might be harder to execute when you're with your friends, so the next time you're having drinks together and someone starts talking about how fat she feels, use it as an opportunity to steer the conversation in a different, more positive direction: Maybe try something like, 'You know, that reminds me of this article I just read about how Rachael Leigh Cook said she thinks airbrushing should be a crime,' or 'You know, I was just reading about Fat Talk Free Week, and I realized how freaking hard it is to go just one day without calling myself a bad name.'  And use that as a springboard for a POSITIVE discussion."
3. Finally, a bit of advice from Dr. Robyn Silverman, author of the new book Good Girls Don't Get Fat: How Weight Obsession is Messing Up Our Girls and How We Can Help Them Thrive Despite It:
"Part of being healthy is surrounding yourself with positive, healthy people who do not feed into the toxicity in one's life. I think your reader has everything she needs—that is, she is fully prepared and able—to cope with this frustration in her life. She has identified the problem (her coworker and her friends bring her into conversations that aren't good for her). Now she needs to go to the next part of the solution, which is, one of two things: (1) Be assertive and tell her friends and colleagues that discussion about food and weight aren't healthy for her; or (2) Surround herself with different people. I was asked yesterday during an interview how to cope with this same problem so it's something many people deal with everyday. Being a girl or a woman brings expectations of fat talk. it's time to break that cycle and declare your friendships a 'Fat Talk Free Zone' (FTFZ). Simply bringing it to the attention of your friends can do wonders, for example; 'Do you know that we get into the same conversations about food and fat every time we talk? Let's just say that we are both beautiful and amazing so we can talk about something else! Deal? So what did you do last Friday when your brother came to town…?' While being assertive takes guts, we have to make our health a top priority. You know the problem…now, here's to putting the solution in action!"
Now, do any of you guys have certain friends or family whose focus on weight or food threatens your food sanity? What do you do to avoid it? xo…Sunny