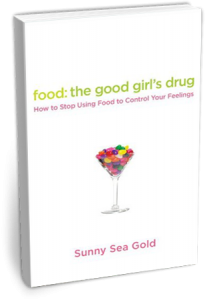 I am so incredibly excited to announce that—holy cow, somebody pinch me—my book hits shelves TODAY!
I feel a little dizzy.
Food: The Good Girl's Drug is the culmination of what's truly been a major life goal for me: To use my story of getting sane about food and recovering from binge eating to help as many other girls and women out there as possible. Starting HealthyGirl.org was an important step, but I can't explain everything I've learned—or help as many people as I'd like to—in a blog post.
This is literally the first book aimed specifically at young women who emotionally overeat or binge—and I can't believe it took until 2011 for it to exist! As regular readers know, I believe there are lots of very good and helpful books out there on healing your relationship with food. And, while I found some of them helpful when I was first figuring out something was weird about my eating, I couldn't always relate to the women and men in the books. They were all older, grown, married with kids. I wished back then that there had been something that spoke to exactly what I was going through at the time: Boyfriends, roommates, breakups, college, first jobs. And now I'm so happy to say that there is!
I want to say thank you to the entire HealthyGirl.org community for helping to make this book happen. I interviewed 25 young women between the ages of 15 and 30 for the book, and every single one of you brave girls who shared your story I found right here through this site. I asked for volunteers, and you guys (including Trish, Erica, and Morgan) raised your hands. You're brave, you're brilliant, and you're helping other people get sane about food right now!
So! What's next? How about a HealthyGirl.org Book Club series on Food: The Good Girl's Drug? I'll be posting more info on that in the next few days…and specifics on how some of you can get a free copy! xo…Sunny