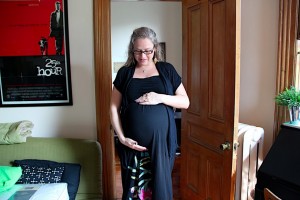 Hi all!
I know the posts have been intermittent lately, and by way of explanation I can only look down at my bulging, eight-month-pregnant belly and say, "It's all your fault, sweet little baby!" (I could also point a finger at my very busy day job. Darn you, Redbook magazine!)
Anyhow, I know people have come to rely on the community here and get hope and relief from the posts, and it sort of sucks that they're not coming as often as they used to. It also sucks if you have to keep checking back on the site only to find that, no, there's still nothing new.
Solution #1: Sign up to get the blog feed via email! The place to do it is at the bottom right hand corner of the home page. That way, you'll get an email every time a new post goes up.
Solution #2: Sign up to submit a guest post! You already know that Trish, Erica, and Morgan post occasionally. Why not you? Drop me an email with a quick little summary of what you'd like to write about: [email protected]
Solution #3: Volunteer to be my site intern! Not only have I not been posting lately, but I haven't been tweeting my Food-Sanity Tips of the Day, either. With the baby coming, I'd love to get a little bit of help with both. If you have a couple of hours a week to donate to the cause, are in recovery or recovered from overeating issues, and like to write and organize stuff, please send me a note and your resume: [email protected]
P.S. BookClub post coming later today on Chapter 2!
xo…Sunny