HealthyGirl.org reader and contributor Erica is back today with a guest post about finding herself in a bit of a tougher spot than usual with food and her body. Getting sane about food is a winding road, and we all have little hills and valleys—big thanks to Erica for being so honest about hers here. xo…Sunny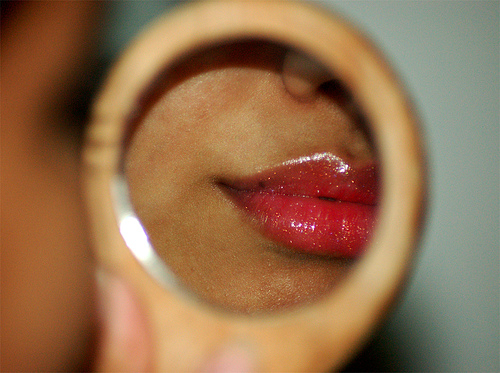 "Within the last month I've been eating a lot of junk food and having mini binges, and my workouts have not been enjoyable or empowering. As I was struggling on the treadmill one day, huffing and puffing at a pace and incline that could usually allow me to leisurely read a magazine, I broke out crying. I felt like a hamster on a wheel, making myself do this so I could get back on track and not lose the tone that I had worked hard to attain over the summer. A voice inside me begged out loud, 'Please be kinder! Please, please be kinder!' over and over again. Like many of us are, I know I'm often too hard on myself, particularly in the looks department, and I think this little freak-out was a sign from my inner-self telling me it had had enough. Can't say I blame it."
"See, while I know my body image has evolved positively since recovering from binge eating disorder, I still have an underlying desire to look a certain way. Admittedly, it's a bit hard to focus on maintaining a healthy lifestyle for the sole purpose of being healthy. As much as I preach that I'm trying to take better care of myself so that I can be a healthy, strong old lady in the future, it's tougher to concentrate on that abstract, distant goal than it is to notice how I look today.
"Speaking of looks, I'm realizing just how much I look in the mirror—and I've decided I'm going to try and go a day without doing so. I know this isn't practical for every day life, but for once I'd like to not sneak glances at myself and pinch back my hips to see what I would look like with less flesh there. Don't get me wrong, I often love how I look, but I want to put a bit less emphasis on appearance either way. From a quick Google search, I see that this challenge isn't very original. Dove had a seven-day challenge, and some girl on Facebook tried it for 21 days. At this point all I'm asking of myself is one day—I'm doing this because I need to re-focus.
"I'm in a workout and food rut, and I believe that is mainly because I've lost sight of why I want (or should want) to eat right and exercise. Perhaps I've taken my recovery for granted in that once I got better I stopped reading those motivating books, food journaling, and using the other helpful tactics that got me where I am now. On the bright side, I've learned that, similar to a doctor or teacher trying to stay current in her profession, an eating disorder survivor should dip into her old toolbox every so often to keep herself on track, always learning, always improving.
"I know what you're going to say (and what I would tell any of you if you were feeling this way), and that's progress over perfection. So I'm just going to breathe and keep that in mind. Until then, to those of you who consider yourselves to be recovered, how often do you use the strategies you did when you were first beginning the healing process? Or did you never stop using them?" —Erica
Have any of you ever had an experience like Erica? I know that over my recovery, as my life got fuller and my self esteem grew, appearance became less important to me than my happiness and health. And caring more about my insides than my outsides gave me the freedom from guilt and allowed me to bring joy back into exercise and eating. Please share whatever this brings up for you! xo…Sunny