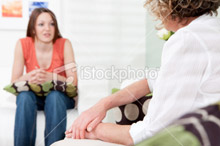 HealthyGirl.org reader Angie told me that she's had a lot of success recently using cognitive behavioral therapy to help her get (and stay) sane about food. CBT may sound intimidating, but it's just a style of talk therapy—one that I heard many many experts recommend when I was interviewing them for my book about binge eating. Take a look and feel free to weigh in with your thoughts about CBT, or therapy in general. xo…Sunny
Hello world. This is Angie. I am humbled that Sunny asked me to talk about Cognitive Behavioral Therapy (CBT). While I have been in recovery from multiple eating disorders for 20+ years, note that I am not a licensed psychologist or medical professional. What I share here is based on my personal experience.
One more caveat: During my recovery I have often searched, in vain, for someone to give me the magic formula for a healthy life. I want someone, anyone, to tell me what to do so I don't have to struggle with decisions re: food and exercise. This search has been in vain. Life is messy and I have to do the work to figure out what works for me, today, every day. There is nothing that always works. Now, if I haven't scared you off, is more about CBT:
There are definitions of CBT that you can look up. For me, CBT means that I talk to a licensed psychologist on a regular basis. Out of these appointments, the psychologist observes patterns of behaviors and suggests that I reframe situations and thoughts. Here are a few examples to explain how CBT has helped me recover:
Recognize that I will always have thoughts related to disordered eating. I cannot remember a time when I did not try to find solace and control in food and how I consume food. Instead of banishing these thoughts, I recognize them, but choose not to dwell on them. Countering the food-related thoughts with positive mantras is hard, but helpful.
For example: When I think about binging or restricting, remember that I love to take the dog for a walk and look up at the sky. I am stronger than I think and feeling the fresh air on my face is a way for me to disconnect from the eating disorder. Disconnecting from the ED thoughts is very important for me as it's been a primary tool in my recovery. It's actually a tool that a lot of people use when healing from mental disorders. Have you watched A Beautiful Mind? While depression and eating disorders are not the same thing as schizophrenia, there is something to learn from watching how John Nash (played by Russell Crowe) healed from his mental illness. He became cognizant of schizophrenic-type thoughts and, eventually, chose to pivot away from those thoughts by recognizing what was real.
This idea of pivoting away from 'crazy' thoughts intrigued me so much that, in addition to watching the movie, I read the book. Nash found that he had to train his mind to ignore the thoughts that sabotaged him. I have found this approach useful when dealing with my ED thoughts. I have been working on my recovery for 20 years and still struggle. In times of stress, my mind tries to escape to thoughts of food and how I can control it. I must make diligent effort to pull myself out of these thoughts and focus on positive mantras.
I also try to think about the people around me. EDs are a disease of isolation. To pull myself away from the ED and isolation, I think, "How can you be an active listener to offer the people in life what they need?" I find fulfillment from healthy relationships with my husband and kids. Being physically, emotionally, and mentally present is healing. That said, it's not always easy. I must put the phone down, take deep breaths, and follow the advice I give the kids: I need to be present when eating so I can enjoy the food. I should go outside to get some exercise every day. I should read for fun and for work. And, I should enjoy the struggles life presents because that's when I'm truly growing and learning. No, it's not easy, but it's not supposed to be. As my therapist reminds me, we grow in crisis.
What has your experience been (if any) with CBT or other types of therapy? Would you recommend them to others trying to get sane about food?