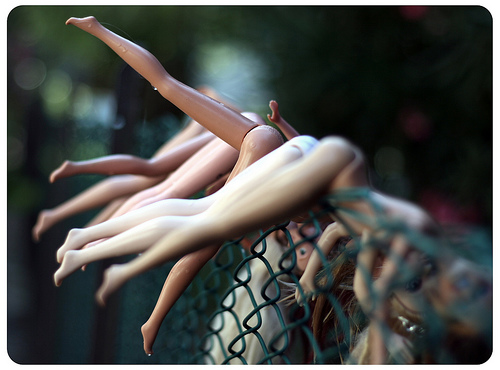 Last week I was walking home from the gym, still in my workout clothes, and I walked past a guy who said aloud to me, "You have the most beautiful legs I have ever seen."  I kept walking quickly by and looked towards the ground. I was sort of embarrassed and I remember nervously laughing to myself, "Yeah right buddy! Maybe you haven't seen very many legs?" My initial reaction was to toss off the compliment as something completely absurd (maybe he was near-sighted?) and let myself dispute it by checking off the list of negative things I have stored up about my legs.
I know random comments from strangers on the street are nothing to focus on (or internalize), but it made me think—why was I so weird at receiving that compliment, regardless of where it was coming from? I know plenty of women and cultures that take random compliments like that with a grain of salt, but can also let it add positively to their self-concept (or just keeping it neutral), as opposed to creating more negativity.
Aside from it perhaps coming off as disrespectful talking about someone else's body without their permission, I could have just smiled, kept walking and thought, "Oh, that's nice. I'm glad you admire my legs…Maybe you could teach me a thing or two." I sort of felt sad that I had such difficulty with accepting a compliment about my body.
As background, my legs are the part of my body that most of my negative body energy goes to. They are the body part that I dwell on. They have always been "too muscular, too short, too this and that…" When I try to practice body love, I try to give them the most (I've been far too mean to them in the past).
Instead of using my gams to gracefully stride by, the attention to them made me self-conscious and woke up the body-bashing monster inside. It's almost like I was uncomfortable with the idea of breaking the cycle of negativity towards my thighs and calves, perhaps because I've gotten so used to telling myself the story that my legs are the part of me that is never going to be good enough.
I wonder what I would tell myself if this weren't the case? Eeek! Not that I should need someone else's outside validation that they like my legs (that needs to come from inside myself), but maybe this random person's perception of me could teach me something about how I keep my own self stuck in a place where negativity prevails.
Have you ever found it hard to take a compliment, whether it was about your looks or something else? —Morgan

Tweet This
[photo]