This post is inspired by a Rachel over at Body By Pizza, who tweeted late last night that a good friend of hers needed a good book on emotional eating. She hath tweeted in the right place!
Here's a list of my favorites-books I've used in my own recovery and that friends of mine have gotten a lot out of. What's the best emotional eating or weight loss book you've ever read?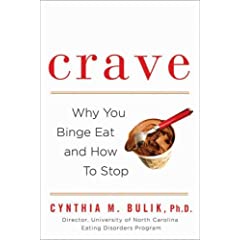 Crave: Why You Binge Eat and How To Stop
by Cynthia Bulik, Ph.D.
Genetic predisposition, brain chemistry, psychology, and cultural pressures increase a person's susceptibility to binge eating disorder, but bingeing is not inevitable. Crave helps readers understand why they crave specific foods, recognize what triggers their strong urges, and get control over their responses to those triggers. By identifying your Crave-ology profile, you will be able to take charge of your appetite and your urges.
Feeding the Hungry Heart: The Experience of Emotional Eating
by Geneen Roth
This is how Geneen Roth remembers her time as an emotional overeater and self-starver. After years of struggle, Roth finally broke free from the destructive cycle of bingeing and purging. In the two decades since her triumph, she has gone on to help tens of thousands of others do the same through her lectures, workshops, and retreats. Those she has met during this time have shared stories that are both heartrending and inspiring, which Roth has gathered for this unique book. [*Fun fact: This is the first book I ever read about emotional eating. It set me on my way to getting better!*]
Why Weight? A Guide to Ending Compulsive Overeating
by Geneen Roth
A customer review on Amazon: Roth has created a wonderful, insightful compilation of exercises which, when combined with a lot of hard work on your part, can change your life. She will change your feelings about yourself and about why you eat. The exercises take a long time to get through because they are so emotionally demanding, but it is a worthwhile process. If you are ready to take a hard look at what really motivates you to open your cupboard, and examine those dark feelings you hide even from yourself, buy this book.
Overcoming Overeating
by Carol Munter and Jane Hirschman
Diet/binge. good food/bad food. punishment/reward. These are the compulsive eater's nightmares, a long-time pattern of recrimination and guilt that ultimately leads to more overeating and more weight gain. In an updated edition, here is the ground-breaking, step-by-step plan that doesn't control eating habits but cures them instead, once and for all. Overcoming Overeating will show you how to: Give up dieting forever; Eat from true stomach hunger instead of "mouth hunger;" Stop overeating and lose weight naturally; Move beyond a preoccupation with eating and weight in order to live a more satisfying life
If any of you have read these books, what did you think? What are your own favorites?
xo…Sunny


Tweet This