A friend from the Woodhull Institute told me that she was clicking around the site the other day and wished there was a section on healthy, yummy foods to eat. Fabulous idea, no? I'm gonna do that soon, and add a forum where we can swap ideas. But in the meantime, since I love breakfast, I thought I'd share a few morning meals I'm into. Feel free to add your own!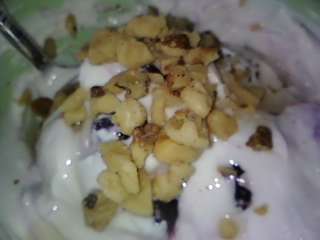 Blueberries and Cream
Zero- or 2-percent Greek yogurt (Fage's the best, y'all)
1/2 cup frozen blueberries
1 Tbsp chopped walnuts
A little agave nectar
Mix it all up into a creamy, lilac fluff and enjoy.
Fiber-tastic Crunchfest With a Side of "I'm So Full"
2/3 cup Barbara's Organic Smart Bran
1/4 cup sliced fresh strawberries
Plain soy milk
Drizzle of agave nectar
On the side: 2 maple-flavored Morningstar Farms veggie sausage patties
Yummy, sausage-y protein without the nitrates and saturated fat, plus half a day's worth of heart-healthy, cancer-fighting, tummy-filly, blood-sugar protective fiber! (I know, I'm such a nutrition dork.)
Parm-Wonderful Omelet
2 eggs
A couple tablespoons of fresh grated parmesan cheese
A bunch of chopped onions, bell peppers, mushrooms and/or tomatoes
Pat of butter or tsp of olive oil to fry the omelet in
1 piece whole-grain toast with butter
Salty, toasty, a whole serving of vegetables. 'Nuff said.
xo…Sunny


Tweet This