Anyone who checks in on HealthyGirl.org regularly knows that although this site is kind of all about food, it's also kind of not about the food at all. We don't talk about actual food much here, but I for one, am a total food-lover, completely outside of my history of bingeing. I love delving into the health aspects of certain nutrients, I love knowing that what I eat is making my body work properly and protecting it from disease. And I love things that taste good!
In my recovery, I've found that eating breakfast is an important part of setting my day up sanely when it comes to everything from my stress levels to my cravings later in the day. Here, I thought I'd share a few morning meals I'm into. Feel free to add your own!
Fiber-tastic Crunchfest With a Side of "I'm So Full"
2/3 cup Barbara's Organic Smart Bran
1/4 cup sliced fresh strawberries
Plain soy milk
Drizzle of agave nectar
On the side: 2 maple-flavored Morningstar Farms veggie sausage patties
Yummy, sausage-y protein without the nitrates and saturated fat, plus half a day's worth of heart-healthy, cancer-fighting, tummy-filly, blood-sugar protective fiber! (I know, I'm such a nutrition dork.)
Parm-Wonderful Omelet
2 eggs
A couple tablespoons of fresh grated parmesan cheese
A bunch of chopped onions, bell peppers, mushrooms and/or tomatoes
Pat of butter or tsp of olive oil to fry the omelet in
1 piece whole-grain toast with butter
Salty, toasty, a whole serving of vegetables. 'Nuff said.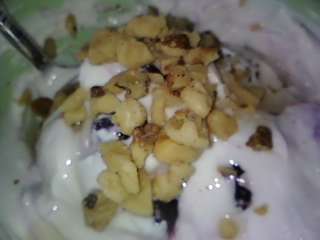 Blueberries and Cream
Zero- or 2-percent Greek yogurt (Fage's the best, y'all)
1/2 cup frozen blueberries
1 Tbsp chopped walnuts
A little agave nectar
Mix it all up into a creamy, lilac fluff and enjoy.
What are your favorite food-sanity breakfasts? Maybe we can swap recipes… And let me know, would you like to talk more about healthy food ideas on the site?
xo…Sunny
For new Food- and Body-Sanity Tips of the Day, every day, follow HlthyGrl on Twitter!

Tweet This
[photo]
[parts of this post originally ran in September 2009]