Although I am luckily no longer in the place in my life where I have to take finals and write long research papers, I do remember it as being a particularly tricky time for me food-wise. Even my friends that were more or less "normal" about food would have difficulties with mindless and stress eating during finals.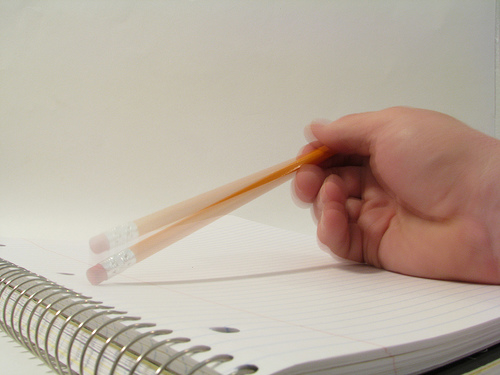 I may not have any papers due right now,  but there are always things in life that you don't particularly want to do…or start…or finish. Procrastination is an easy place to get stuck in and using food to divert your attention is an easy thing to do. In fact, most of the time procrastination is complex and sneaky enough that it can have you munching away, actually believing that you are hungry when in fact, you are just avoiding some other task. I really need to write those important (yet daunting) e-mails…man I am really craving chocolate right now, so weird!
My mom used to tell me that procrastination is sort of like the unfortunate offspring of a situation where both low self-esteem and striving for perfection exist together. I had never really thought about it that way, but when I did, it actually made some sense (thanks mom!). It can be easy to get caught up in the anxiety about starting or finishing something when you are so fixated on having to do it perfectly (unrealistic expectations) and not believing that you can do a good job. I know that for me, I have had to work a lot on letting go of my tight grasp for perfection and feeling the need to be the perfect person all the time throughout my recovery-which ultimately enables me to be a lot kinder and realistic with myself.
This way of looking at procrastination ties into the traps of black and white thinking, a theme which appears to come up frequently for people dealing with getting sane about food and their bodies. Even though they are not exactly the same, scenarios like this: "I got a poor grade on my last paper, I will probably not do very well on this one either, so I am not going to even try," can sound similar to, "I just ate all that crap. That was so bad. Well, I totally blew it, I may as well just keep eating."
Eating in lieu of procrastinating can make you feel like you are doing something with your time that is somewhat worthwhile. "I was just taking a break…eating a snack. I deserve this. Brain food, right?" I am all for taking study breaks and for brain food, but it's when these trips to the kitchen, cafeteria or library cafe get too frequent and perhaps mindless (or anxiety-ridden), that maybe it is time to stop and look at what is really going on. I used to hate writing the conclusions to big research papers, I always just thought I was bad at writing them. Looking back, this is pretty silly because it is essentially the easiest part of the paper, the hard work is already done. Regardless, I would get to the point where I would almost finish and then promptly procrastinate/eat a snack (even if I wasn't hungry) until the deadline was looming even closer before finally finishing.
Fortunately I have mostly gotten out of the habit of eating while procrastinating (absence of finals also helps!), but sometimes the urge does sneak up on me.
Is procrastination a place where you find yourself struggling with this kind of stuff? If so, what do you notice and how do you handle it? -Morgan