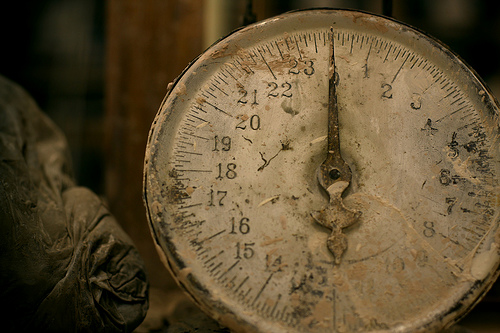 It's Week 2 of the HealthyGirl.org Book Club—and, as you know, we're reading Crave by Cynthia Bulik, Ph.D. You don't have to be reading along in the book in order to get something really helpful out of these posts, but we hope you will!
Dr. Bulik's second chapter is about weight loss and binge eating, a topic Sunny has tried to tackle before. It's touchy subject, since the last thing any expert wants to do is encourage "fat talk" or the urge to drop pounds. Dr. Bulik admits that the weight issue can be really tricky: Because people who binge don't always purge or overexercise, some may gain weight—if they do gain, it often leads to a feeling of hopelessness, so you just binge more, keeping the vicious cycle going, she says. (Then, often if you focus on "dieting" or weight loss, it makes you miserable and backfires.)
No matter what your weight, healthy weight stabilization has to be a slow, gradual process, says Dr. Bulik, and "quick-fixes" like extreme diets only fuel the fire and end up making things worse. What does that mean in real life? I remember hopefully reading stories of people getting better, making changes and slowly stopping the binges and then their weight gradually just falling away naturally as things got better. I think this is an ideal situation, but not exactly what happened for me. As I dealt with some of my issues and the overeating calmed down, my weight stabilized. This stage felt sort of like a relief, "Gosh-at least I'm not gaining anymore weight." But also felt a little daunting, "Now what? I feel so uncomfortable in myself!"
I did a lot of reflection (journaling and reading things) before I felt that I was at a place where I could focus on some strategies for gradual, healthy change and not fall back into destructive black and white thinking or the diet mindset (careful with this!). This preparation part did take a bit of time, but I was patient and honest with myself and I think it really helped me. It wasn't until I had truly dealt with some of the underlying reasons for my behaviors that I was able to move on to getting my body back to a place where I felt comfortable. I often would have little moments of being really kind to myself and apologizing for some of the past self-destruction, and that I was trying my best to make things better and honor myself and body.
For me, exercise was and has been the most helpful thing. Not only does it make me emotionally and mentally feel great, but as an athlete growing up, it is a familiar activity and allows me to really be in touch with my body. I found that moderate exercise (say, 45 minutes a few days a week) and being conscious about what I put in my body was key. I know I read this everywhere, but never gave it the credit it deserves…the little things are what ended up making the difference.
How have you dealt with weight and body issues in the past and how are you dealing differently now? Have you found exercise to be helpful or did you have trouble not becoming obsessive about it? —Morgan

Tweet This
[photo]