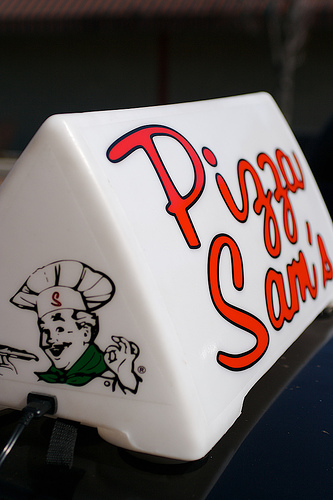 "Let's order a buffalo chicken calzone!"
"Uhh, well, I don't know, I don't think…."
"C'mon, split one with me! You know you want to, they're SO good."
"Umm, well…okay."
I can't tell you how many times this little scenario has gone on (mostly when I was in college, and there was an admittedly delicious calzone spot around the corner from where I lived with my best friends).
Problem is, my friend saying these things has a totally different relationship to food than I do. She is a very intuitive eater and usually doesn't overeat, so I would be the one who ended up finishing off the goods and feeling ill. (And who doesn't have the friend that has a bottomless pit for a stomach and a seemingly magical metabolism?)
Sometimes I just have to be honest with myself and be clear that to stay sane, sometimes I can't eat in the same way as my friends. Do I wish it were different? Yes. Can I change that? Not really—it is what it is. The reality of things sometimes is frustrating and disappointing, but ultimately dwelling on it and comparing myself to others is just a distraction from figuring out what works best for me.
Sometimes it's a matter of needing to eat different stuff (for example, I can't have a meal of just straight up simple carbs, or else I feel icky and get hungry again really quickly), or that I need to eat at a different time, or in a different environment than my friends. As I have accepted this and become more comfortable with it, the easier it has become to manage. I've also found I don't need to make a big deal about it: "I'm not really feelin' a calzone right now, but thanks for thinking of me!"
Eating is a naturally social event and its fun and nice to share a meal or snack with people. Sometimes, however, it makes it really easy to confuse what is actually right for you and what other people might be doing.
How do you guys handle these kinds of situations? Do they come up for you? —Morgan

Tweet This
[photo]