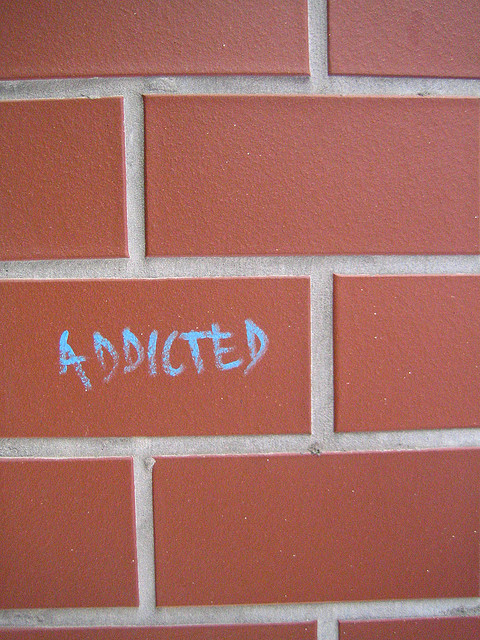 I got a long letter from HealthyGirl.org reader Ingrid, 23, in which she told me a bit of her story with food and her body (read it here). But something toward the end of her note struck me, and I wanted to share it with all of you. She said that she feels like her eating (and purging) is almost an addiction. The addictive properties of food are fiercely debated among researchers, and we haven't talked about food and bingeing in terms of addiction here on the site yet. But it's important, and it can inform the way people approach their own recovery. So, after I answer Ingrid's main question I'd love to hear what you think about whether food can be addictive. xo…Sunny
Q: I've suffered from different types of eating disorder for some years. When I started bingeing and purging in college, I contacted my doctor, and she recommended therapy. I thought my therapist was stupid, but slowly, I started opening to people, and talking a bit to my best friends about my problems. I didn't tell them about the bingeing and purging, because I was so ashamed. But just showing some feelings was a great improvement.
I kept fighting, and I found a lot of useful stuff on the internet. Especially things about improving my self esteem helped me a lot. Now, I'm feeling so much better. I'm still a bit overweight, but it doesn't bother me so much anymore. I don't obsess over what people might think of me. And it's so liberating. But I still overeat and throw up. Not so often, but it's still a problem. It's like an addiction. I'm telling myself that it's not a problem, and that I can quit any time I like, but of course I can't. I'm not sure on what to do. And I'm leaving for Canada soon, where I'm going to be a exchange student for a year. I'm scared that leaving my friends and family and having to get new friends will affect my eating problems, and maybe make them worse. I think I need some ideas on how to cope on my own. Do you have any suggestions? —Ingrid, 23
A: Yes, I do have suggestions! They might not be exactly what you want to hear, though. You asked for ideas on how to cope on your own. My advice: Stop trying to. Listen, I relate to the desire to do it on your own—I used to feel that way, too. I used to feel like I should be smart and strong enough to kick this binge eating thing all by myself. I mean, c'mon, it's just food! Some people (I believe those with more minor issues) may be able to self-help and read their way back to good health. But that's not the way eating disorders work for those of us with longstanding or more serious problems. And believe me: Bingeing and purging—even occasionally—is a serious problem. Purging is even more dangerous and disrupting to your body and mind than bingeing alone—it dehyrates you, breaks blood vessels, drags corrosive stomach acid over the sensitive tissues of your throat and your tooth enamel, and some experts have suggested that it also causes a release of chemicals in the brain that cause a sense of euphoria. Like a drug, perhaps?
Anyhow, you said it best: You feel like you're in control, but you're not. You feel like you can stop anytime, but then you find that you can't. You said it feels like an addiction.
Well, here's the good news, there are totally free groups based on addiction treatment principals that you can go to for food problems. And they're all over the world, including Canada, where you will be headed soon! There are several types of these groups, many of which are based on the 12 steps of Alcoholics Anonymous: Eating Disorders Anonymous; Food Addicts in Recovery Anonymous; Overeaters Anonymous; Anorexics and Bulimics Anonymous. I went to a similar type of group once or twice a week for three years and it helped me move so much further along in my recovery. The structure and support was key in helping me get better and become a normal eater, and I encourage anyone who's suffering to walk into a meeting and just see what might happen. (And if you don't like the idea of any of those groups above, check out the National Eating Disorder Information Centre of Canada for referrals to other groups.)
And, don't write off therapy forever, Ingrid. I know you had a bad experience with your therapist—there are some rotten (or stupid) eggs out there—but that doesn't mean you might not find someone else who is a better fit for you, or someone who has more experience with eating disorders. I've used therapy as part of my recovery, too, and as you said, learning to open up and deal with emotions is so important. Therapy didn't cure my eating issues, but it helped me build strong self-esteem and learn coping tools for life so that I could slowly but surely let go of the food.
In the meantime, there are some really good books that helped me—and tons of other people I know—move forward in recovery. Just don't feel like you should or have to go it alone. You'll get better faster if you keep reaching out for help. Please let me know how you're doing when you get to your exchange program!
Now, to the whole HealthyGirl.org audience: The research on whether food (especially sugar and fat) may be addictive is mixed, but I know that thinking of my bingeing issues as an addiction did help me for a few years while I was in the thick of things. Have you ever considered an addiction-style model of support or therapy for your eating issues? Do you believe food is addictive for you? xo…Sunny