Those of you who have seen this "my story" video below know that I'm pregnant. Those of you who didn't know…Hey, I'm pregnant! Six and a half months as of yesterday.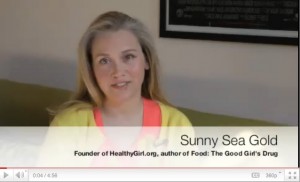 I always wondered how pregnancy would feel for me, as someone with a history of binge eating and body image issues. Would I have food cravings? Would those cravings remind me of binge feelings? What would it feel like to watch the needle on the scale inch up month after month as my belly expands and my body layers (good-for-the-baby) fat onto my hips and thighs? Would it be possible that my disordered eating could somehow come back?
Some of those things have happened and some haven't. Cravings? Yes. For everything from milk to chocolate to soup, tomatoes, pickles, and popsicles. Instead of feeling like the compulsions of a binge, these cravings feel very natural—just like I really, really, really know what I want to eat when I get hungry. (Which at this point is just about every three hours on the dot.)
I've even woken up physically hungry in the middle of the night and needed to have a snack. It was something that felt amazingly natural, despite night eating having been a real problem for me during my bingeing days. It was just a physical need this time around—and once I met it, with a piece of peanut butter toast or a bowl of cereal or some yogurt, it was over and I quickly went back to sleep. It felt good, like I was taking care of myself and my baby. And that felt amazing.
But at about five months, I started noticing body changes that…bothered me. The belly I liked. That part was fun. What felt scary was when I could see changes in my a legs, a body part I never really had issues with. My thighs were growing thicker and I could see cellulite under the skin in places I'd never had dimples before. I felt like I didn't have any control over it and it was hard to admit, but it freaked me out. All this time during my recovery I've come to trust my body and depend on the fact that when I treat it well, it remains strong and my weight fluctuates a bit but not a lot. Now, here I am and my body is anything but stable or predictable.
I stayed calm about it, but didn't really let myself feel much of the fear until my monthly appointment with my therapist rolled around. I was so happy to walk into her office that night to finally admit how I'd been feeling—to someone else, and fully to myself, too. And that expression—and the few tears that fell—seemed to be enough to make the body fears calm down. Because my weight and my body shape are no longer of outsized importance to me, and my self esteem no longer depends on weight or body shape, I was able to let it go. Truly let it go. (At least for now. Who knows, it may crop up again when I'm 8 months and can't see my feet anymore!)
Tomorrow, I'll tell you about the appointment with my doc when she told me she was concerned about the rate of my pregnancy weight gain. That was fun!

But for now, those of you who've had kids, how did you deal with body image disturbance while you were pregnant? Did you have any? And for those who've never had kids, are you worried about how you might deal when you are pregnant? xo…Sunny