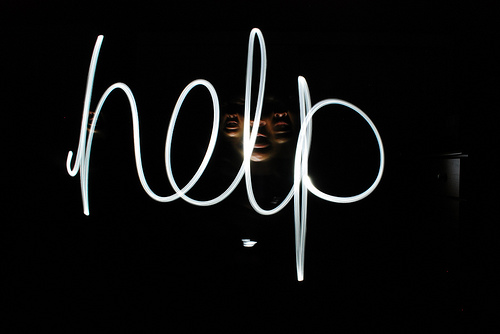 Hi all. This 20-year-old HealthyGirl.org reader sent me an e-mail asking not only for my help, but for all of yours. She feels really stuck in a cycle of hardcore bingeing right now and can't seem to find her way out. Give a read and then, in the comments, please tell her how you dealt when you were in a bad place like this. I'll do the same. xo…Sunny
I'm 20 years old and since last summer have been struggling with eating issues. At first the bingeing was sporadic (and maybe made sense since I had been depriving myself [with a diet]) but then a few months ago it started happening multiple times a day and can go for days at a time—from early in the morning to late at night, I won't stop eating, trying to get as much "bad" food into myself as possible, no matter how sick I feel.
It's probably over 20,000 calories per day, no exaggerations. A full day binge might include: 4 muffins and a croissant for breakfast, giant sandwich with french fries an hour later, 3 milkshakes, ice cream, a huge burrito, 3 bags of chips, another sandwich, a pizza, and candy. I actually don't understand how one person can fit that much food inside her, but I somehow do so on a daily basis.
As expected, it makes me feel awful, mentally and physically. It's especially bad because I'm currently studying abroad and feel like all this obsessing about food (combined with the secret eating, avoiding plans to eat alone, etc.) are detracting from this exciting time in my life.
The problem is I can't get myself to commit to stopping the binges. I've talked to therapists, read yours and a ton of other helpful resources, have tried keeping a food diary, am very open with my mom, etc. I know in the end I have to be accountable to myself, but don't know how to get myself there. I know my triggers and I know all the strategies, but once I've resolved to eat, I just don't care about them. Like I know when I'm alone for long periods of time or doing homework in a cafe with yummy treats, I put myself at risk, but I continue to do it anyway, lying to myself that it will be different this time. In fact, during most of my binges, I'll sit online and literally read about how to stop bingeing—but don't!
It's almost like there's something deep down that doesn't want me to stop. I'm always in physical pain and want to cry when I look at myself in the mirror (I've gained 15+ pounds in 3 weeks since getting here). But instead I just eat more. It's almost like I don't have *enough* guilt about what I'm doing.
So, for those of you who are recovering, how were you able to actually commit to yourselves? I feel like I promise to "start over" multiple times a week, and it never lasts, which just makes me more depressed and hopeless. Thank you so much for any help! —Jane*
[*not her real name :)]