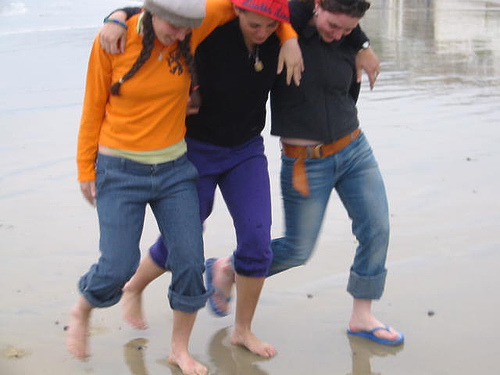 Sitting on a bike in between two of my friends in a spinning class on a recent Saturday morning, I realized how fortunate I felt to have people around me that help—rather than hinder—when it comes to getting sane about food and my body. I knew if I didn't go join my friends that morning, I would miss out on spending time with them and also on feeling good!
These friends of mine and I like exercising together and sharing healthy recipes, but we can also be found sharing our favorite chocolate lava cake from time to time. Spending time with them inspires me, in a healthy way, to take care of myself and make exercise and healthy (but tasty) eating a priority without going crazy.
But there have times when I  surrounded myself with people that were not like this at all and it really made it tough to listen to myself and do what I knew was best for me. Like the saying goes, "you can't choose our family, but you can choose your friends"—we all have the choice of who we spend a lot of time with (at least outside of obligations like school and work).
A friend in the past was so restrictive about her food choices when we would eat together that it made me hyper-conscious and obsessive about what I was eating. I think I almost ate more because it made me anxious and I wanted to be the "relaxed", "normal" one around food (even though inside, I wasn't really). However, then I would just end up feeling guilty and badly that I hadn't really listened to myself and own body. This same friend was really fun to go shopping with, and upon realizing this, I would set up hanging out with her in a different context and it was a lot better.
You have the power to recognize who helps you feel better about the things you are dealing with and who doesn't and in what capacity you want individuals in your life. I also find that my food/body stuff is at its best (and sanest) when I surround myself with people who I know and trust like me for who I am and I don't feel like I am pretending to be something I am not. Sometimes, I think I'd rather be alone than be with people that make my experience with food/body worse.
Do you have any good ideas for surrounding yourself with people that help you get more sane about food and your body? —Morgan

Tweet This